This is one article I do encourage you to read. Not because it's good, but because it showcases very clearly, just
how deep
the "she was asking for it" mentality runs.
http://blogs.timesofindia.indiatimes.com/O-zone/entry/slut-walks-reinforcing-not-changing-sexist-attitudes
First, a short overview of what the "Slut Walks" actually is. It is a movement by women against the notion that being "slutty" invites or deserves degradation, denigration, or violence of any kind. It is a movement for the notion that what a woman wears should not in any way erode her right to feel safe in public. It was sparked by a Canadian police officer who publicly claimed that in order to feel/be safer, women should stop dressing like "sluts".
And the revolution begins!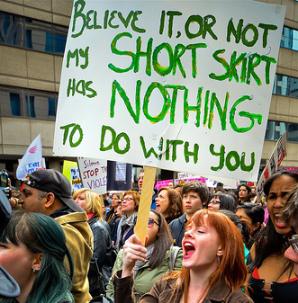 Or so I thought. Little did I know how fundamentally misunderstood this movement is.
By
women, even.
Let's give you a little sample of what the aforementioned article says. The article is long, and covers several points, but this one, I feel, is most salient;
Feminist movements have ensured that no woman need be ashamed of her feminity, but never implied that she has the right to strut her wares with an impunity that invites derision and, debatably, even aggression.
"Never implied she has the right to [...] invite derision and, debateably, even aggression".
But that is PRECISELY what the entire movement is about! The thought process that interprets 'revealing' clothing as "inviting derision and aggression", piling blame on the victim instead of the perpetrator. The author, unwittingly I'm sure, misses the entire point of this rally, and instead gives a glaring example of why it is needed in the first place.
The feminist movement was NEVER about telling women what or what not to wear. The feminist movement was ALL about women being free to make their own choices without being harassed or violated.
The Slut Walks aren't saying that women should bare their skin, that they should walk around in micro-minis, that they should go topless. They are saying that IF a woman chooses to do these things, for whatever reason, she is well within her rights, and HOW DARE anybody heap the blame on her when she is raped, or harassed, or abused.
Let me quote some more, because I can scarcely believe what mine eyes read;
A woman who bares more skin than the norm is definitely using her body to advertise her sexuality and sending out the message that she wishes to attract interest.
Perhaps. But so what? Is advertising ones sexuality a bad thing? Do we all not seek to be sexually attractive to potential mates every time we apply lipstick, or shave our legs? This harks back to the medieval notion that female sexuality is something to be hidden away.
But wait, wait. It does get more ridiculous. The author goes on to say how men are the victims of sexism, here, not women!
Meanwhile, men, obviously mesmerised by the female charms on display globally, haven't even taken cognisance of the implied insult to them in the beleaguered cop's statement. The Canadian cop's statement seems to imply all men, without exception, are likely to jump the next woman they perceive to be dressed like a 'slut'.
a) That was not what was even remotely implied by the police officer's statement. When people advise women not to walk down dark alleys at night, are they implying that darkness makes all men, without exception, jump the next woman they see? No, of course not. Yet that is exactly the kind of claim the author is making here.
b) If anything is insulting to men, it's the implication that you show them a pair of boobs, and their brain function for the forseeable future shuts down to the extent that they are unable to recognise insults to their masculinity.
Christ on a freakin' cracker.