You see all these absolutely ridiculous products on the market, aimed at women. I usually look at them and laugh, thinking, "LOL, silly marketers. Who really believes that Pantene makes your hair look like flowing silk in a few days?!".
A lot of girls, apparently.
For instance, in India and many South-East Asian countries, you get these 'skin lightening' creams. And in European countries, you get 'skin tanning creams'. And people use them.
Now.. what the hell is wrong with you. Do you seriously care that much about your skin tone? What's wrong with having dark, or light, skin? Must you always want the opposite of what you have? Why? Is it really worth slathering your face in chemicals?
And the push-up bra. Yeah, you want your breasts to look higher/bigger than they are, apparently. Why? Anyone who gets under your clothes is only going to find out the truth anyway. Why would you want to deceive? Why do you want to look like something other than you are?
Oh, and these "Spanx" (or whatever) I've been hearing about. Like a push-up bra.. but for your butt.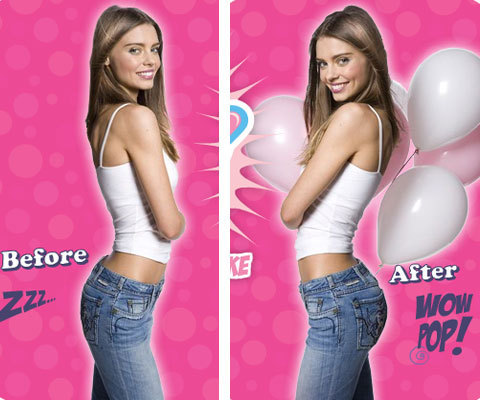 Omg, wow pop! Retarded.
HONESTLY, GIRLS. WHAT THE FUCK. STOP STRAPPING THINGS TO YOUR BUTTOCKS.
Btw; I saw a girl the other day wearing one of these. It was perfectly obvious that she had stuck weird butt-pads to herself. Don't do it.
In a perfect world; we'd all be naked (except we'd wear underwear, because we'd still enjoy hygiene), and nobody would give too much of a shit about whether their breasts or buttocks were too low, or whether their faces were clear enough, or whether their stomachs were too pudgy.
Also, fast food places would be banned. Except Subway. Because Subway is yum. Also, McDonald's breakfast. Because sometimes, you just need some maccas.